Change log
June 8. 2014
Updated to v1.2.4 with these changes:
Fixed reversed TileHeight and TileWidth in the description for TileSize. Se below for instruction on how to update the list with the correct description.
Added ALT attribute top the image (if you use images for the tiles and not fontawesome).
Tidied up the code with JSLint and compressed it using packer by Dean Edwards.
December 7. 2013
Updated to v1.2.2 with these changes:
Added support for FontAwesome.io icons. Either go to the FontAwesome.io site and download the appropriate CSS file, or link it from bootstrapcdn like I have in this example:
<div id="spjs_tiles_placeholder" style="margin:10px;float:left;clear:both;"></div>


<link href="//netdna.bootstrapcdn.com/font-awesome/4.0.3/css/font-awesome.css" rel="stylesheet">


<link type="text/css" href="/Scripts/Tiles/SPJS-Tiles.css" rel="stylesheet">
<script type="text/javascript" src="/Scripts/Tiles/jquery-1.10.2.min.js"></script>
<script type="text/javascript" src="/Scripts/Tiles/SPJS-Tiles.js"></script>
<script type="text/javascript">
spjs.tiles.init("spjs_tiles_placeholder","MyTiles");
</script>
The setup list is automatically updated when you load the updated code. Refer the setup list field description for details on the setup and use of the FontAwesome icons.
November 23. 2013
Updated to v1.2.1 to support SP2013 publishing pages.
This post describes the updated version that has these new features
Variable tile size.
Custom tile color.
Option to refresh parent page when the dialog closes.
Variable tile size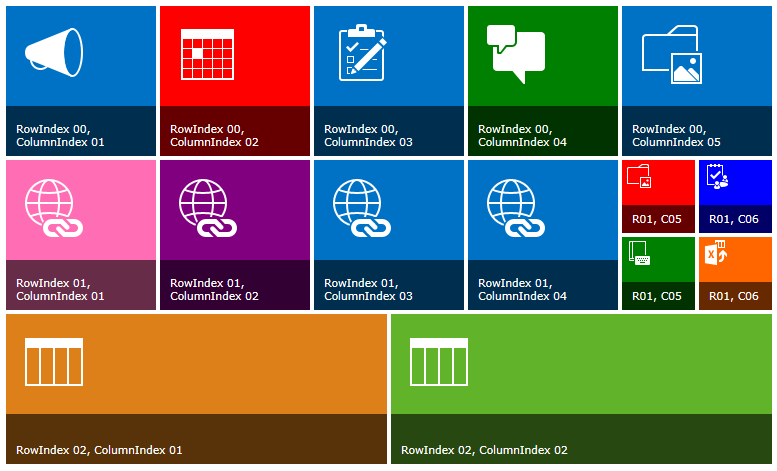 Variable tile size with headings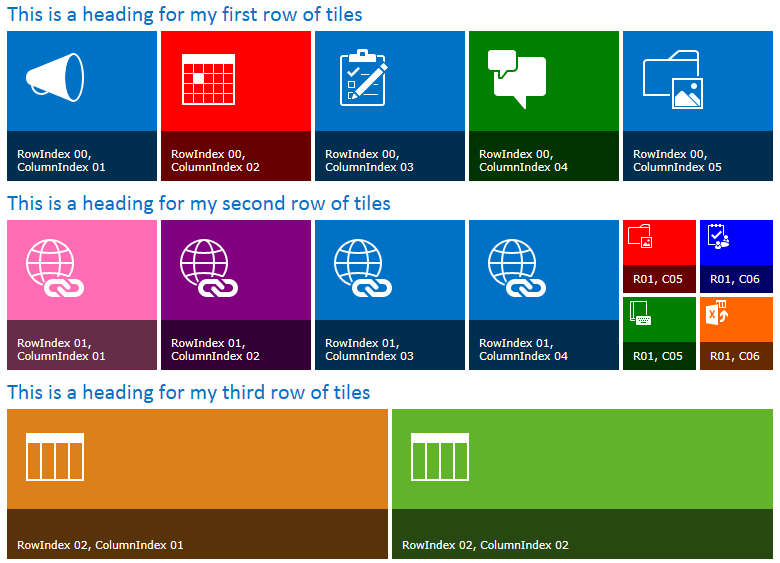 Configuration list

No tiles configured

Upgrading from previous version

Update the configuration list
To force an update of the configuration list, add this to the URL in a page where you have the solution set up
…/site/default.aspx?SPJSTiles:UpdateList=1
*********************************************************************
Let me know if you like the solution, or you have feature requests.
Alexander