This solution is used to make rich charts from your SharePoint data. It uses Google visualization API (Google Charts) to draw the charts.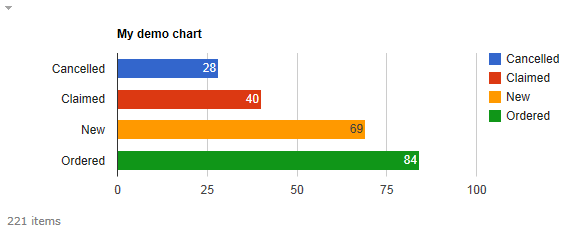 Example chart
Current version of the solution
The current production version of SPJS Charts for SharePoint is v6.1.5.13 (February 25, 2017) for SP 2007 and 2010 and v.7.0.0.14 (December 28, 2018) for SP 2013, 2016 and Online.
Download and install
You find the download link in the user manual.
Google's Data Policy
The data policy for the different charts can be found by following the link in the top of this article. The map chart does send data related to addresses for processing on a server, but all other charts accessible from SPJS Charts for SharePoint is covered by this data policy: All code and data are processed and rendered in the browser. No data is sent to any server
Buy a license
EULA
Read the license agreement before proceeding.
Trial license
If you want to try out the solution first, you can get a 1-2 months trial version if you  send me your name and your company name.
Step 1
Make a payment using PayPal. The license price starts at $75 for a single site license. See details on the various license types here, and select the appropriate license below.
Do you prefer an invoice or have a purchase order?
Send me an email
with information on which product you want to buy, the company name and address, and the email address you want the invoice sent to.
Are you from Norway?
If so, you must request an invoice to have MVA specified.
| | |
| --- | --- |
| Site license: $75 | |
| Site collection license: $150 | |
| Company license starting at $750 | Contact me to get a quote |
| Corporate license | Contact me to get a quote |
| OEM license | Contact me to discuss the price |
Step 2
Email me the transaction details and request a license code. Use this email address. As soon as I receive the email, I will send you the license code.
Step 3
Add the license code in the "License" tab in the chart configuration. The code is shared between all charts in the same site so you don't have to add it to more than one chart in each site.
Discussion
Use the forums for all discussions regarding SPJS Charts for SharePoint.