Are you looking for the Modern DFFS for SharePoint online? – you can find it here: https://spjsworks.com/
What is DFFS?
Dynamic Forms for SharePoint (DFFS) is a solution that lets your customize the classic out of the box SharePoint forms to create powerful rich forms without using code. You can use this version in SharePoint 2007, 2010, 2013, 2016 and 2019. It can also be used on SharePoint online if you turn on scripting capabilities (using PowerShell).
By using the graphical user interface, you can customize the layout using headings or custom HTML, tooltips, tabs or accordions. You can arrange form fields side by side, and you can add triggers and rules to control which fields are visible, hidden, read-only or required. You can also show different form fields or tabs for different users by targeting SharePoint user groups.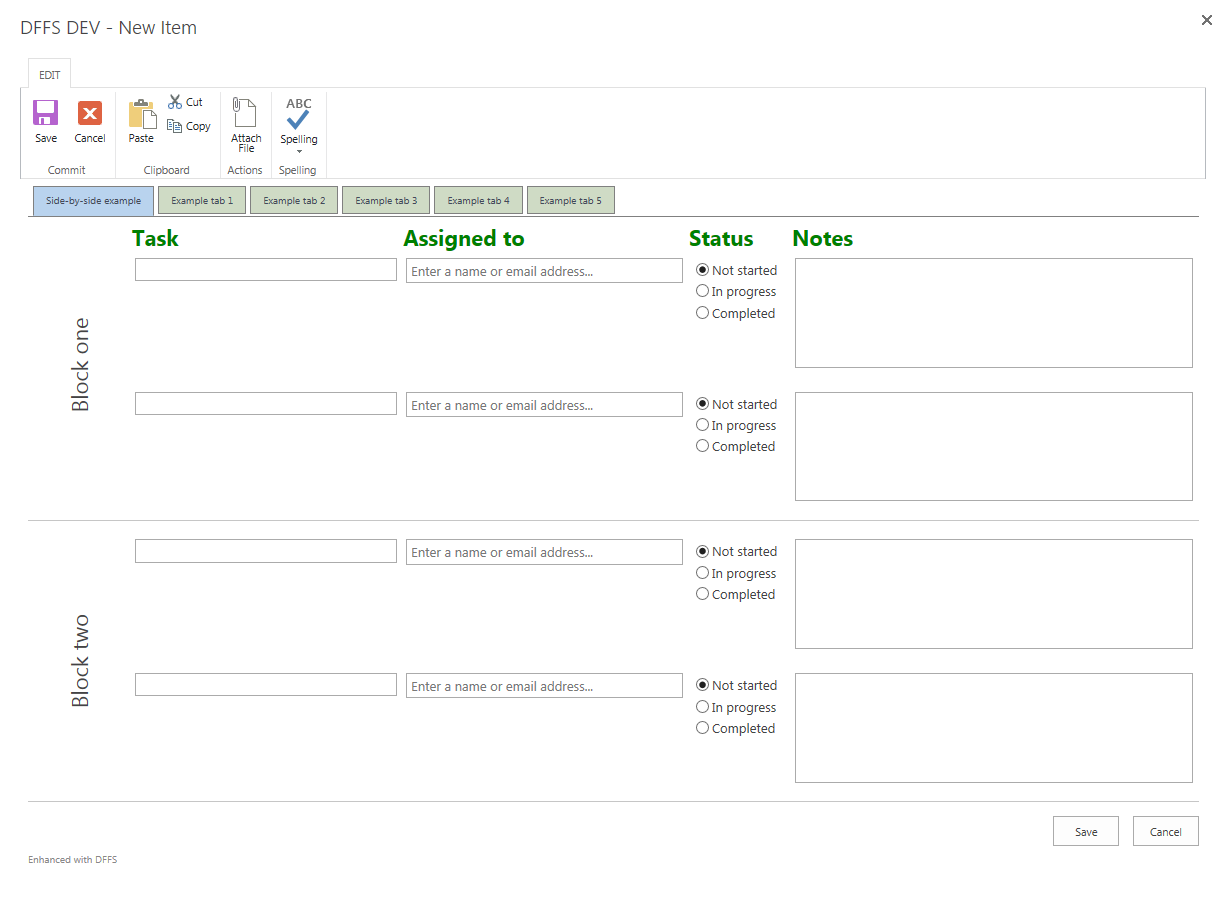 NewForm enhanced with DFFS
Current version of the solution
You find the complete change log here.
DFFS user manual
You find a user manual describing all the features of DFFS here.
14 days fully functional trial
You can download and try the fully functional solution for 14 days.
When this trial period has ended, the solution will, strangely enough, keep working with all the features. I simply could not get myself to disable the solution when the trial ended!
You will however have a message in the bottom of the form telling you that the trial has ended.
The reason for still making this a 14 day trial, is to encourage you all to contribute. I use a lot of my time developing and supporting this solution, and you can help ensure Dynamic Forms for SharePoint will be supported, maintained and updated for future SharePoint versions.
Do you need an extended trial? – contact med to have a 1, 2 or 3 month fully functional trial version.
Download and install
Follow these instructions on how to download and install the solution.
Buy a license
EULA
Read the license agreement before proceeding.
Step 1
Make a payment using PayPal. The license starts at $150 for a site license. See details on the various license types here.
Do you prefer an invoice
Send me an email with information on which product you want to buy, the company name and address, and the email address you want the invoice sent to. I will generate an invoice either from PayPal (quicker), or from my Norwegian bank if you prefer that.
Are you from Norway?
If so, you must request an invoice to have MVA specified.
| | |
| --- | --- |
| Site license : $150 | |
| Site collection license : $350 | |
| Upgrade from Site to Site collection license : $200 | |
| Company / Department license * | Contact me to discuss the price |
| Corporate license * | Contact me to discuss the price |
| OEM license | Contact me to discuss the price |
* The company / department and corporate licenses has a maintenance fee of 20% per year.
Step 2
Email me the transaction details and request a license code – include the name you want on the license. Use this email address. As soon as I receive the email, I will send you the license code.
Step 3
When you receive the license, add it to the DFFS backend "License" tab, or for the JSLink setup option – the Setup page.
I started developing DFFS in 2012, and i have done a few articles related to the solution over the last two years. This new release have in addition to all new features, kept all DFFS v3 features. You might want to look at the archives to find these articles.
Plugins for DFFS
You find all the plugins for DFFS listed in the download and install page.
Discussion