I have updated SPJS Charts for SharePoint to v3.3 and added a few new features.
You find the code in the original article
1. Option to have multi select in filter select


When setting up a chart filter, you now have an option "multiselect" which you can set to true to have multiple selection in the filter select. You can also specify the size of the select. See the "Instructions" link above the filter setup textarea.
2. Added formatter: ColorFormat
Description pulled from here
Assigns colors to the foreground or background of a numeric cell, depending on the cell value. This formatter is an unusual, in that it doesn't take its options in the constructor. Instead, you should call addRange() or addGradientRange() as many times as you want, to add color ranges, before calling format(). Colors can be specified in any acceptable HTML format, for example "black", "#000000", or "#000".
3. Added DataTable Roles (Experimental)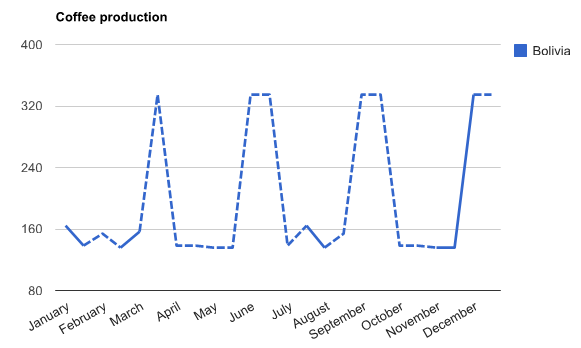 Dotted line represents uncertain numbers.
Description pulled from here
Google DataTable and DataView objects now support explicitly assigned column roles. A column role describes the purpose of the data in that column: for example, a column might hold data describing tooltip text, data point annotations, or uncertainty indicators.
Previously, there were only two roles available to a column: 'domain' which specifies major axis labels; and 'data' which specifies bar heights, pie slice widths, and so on. These roles were assigned implicitly, based on the order and type of the columns in the table. However, with the ability to explicitly assign column roles, you can now add optional columns that provide new, interesting features to a chart such as arbitrary annotation labels, hovertext, and uncertainty bars.
4. Filter multiple charts with the same filter controls
You can apply the same filter on multiple charts in a page. To do this, add the parameter "filterAdditionalCharts" to the filter setup textarea like this:
[javascript]
[{"label":"Year","urlKey":"year","filterAdditionalCharts":["MyChart2"],"options":[{"f":"All","v":"*"},{"f":"2010","v":"2010"},{"f":"2011","v":"2011"},{"f":"2012","v":"2012"}]}]
[/javascript]
You supply an array of additional chart container IDs to apply this filter to. If you set up multiple filters, you only have to set this parameter for the first filter select. In the additional charts, you must set up the Custom CAML to consume the filter values.
5. boolean configuration options will now be handled properly
Previously there were a problem using boolean options like "sortAscending". This has now been fixed.
6. Alphabetically sorted field names in field select – now with FieldInternalName in parentheses
In the "Edit Chart GUI" the field names are now Alphabetically sorted. You also have the FieldInternalName in parentheses behind the display name. This might come in handy when setting up custom CAML.
7. Load the Google Visualization API release candidate
Google periodically releases a new version of the Google Visualization API. As the API does not have support for versioning, the new version is forced on everyone using this tool. To stay one step ahead, you might want to check out the release candidate before it goes live. To do this, you can set the variable "loadRC" to true in the CEWP code (as before), or you can now use a query string parameter in the URL like this:
[javascript]
../MyPage.aspx?loadRC=1
[/javascript]
Alexander