In SharePoint 2010 you loose the list view selector in a list view if there are more than 1 web part in the page. This makes navigating the list views very cumbersome.
I have previously created a solution for adding a view selector in these list views, but that solution was a bit clunky.
I looked at this again today, and came up with a solution for re-enabling the missing list view selector that was clean and simple – and it doesn't even require jQuery…
This is the first article where I'm using the "SharePoint 2010 Client Object Model".
This solution is placed in a ContentEditorWebPart (CEWP) somewhere in the page you want the list view menu re-enable in. I recommend using the "Content Link" option in the CEWP as the code might be messed with by SharePoint if you paste it directly in the CEWP's HTML-source.
To achieve this, put the code in a text-file and place it in a shares document library (all users must have read access), or in a folder created in SharePoint Designer. You then copy the file's url and paste it into the "Content Link" field in the "Edit web part" panel like this: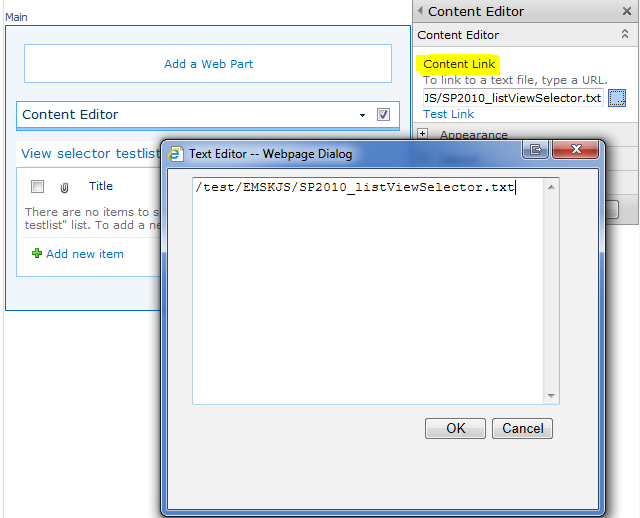 You do not get any pictures of the menu itself as it is no different from the standard list view selector.
Here is the code:
Get the code here