27.01.2012 Updated to support SharePoint 2010.
---
By request from Charlie Epes i have made a function for adding a "Success Ratio" to the ms-gb-row (first group in grouped list view):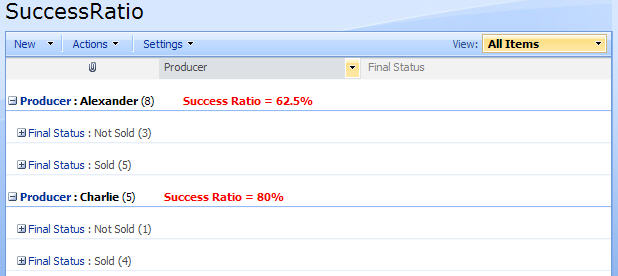 This function takes two arguments:
leadText: The text added before the percentage value
txtToFind: The text to search for and to get the number of items from
The value is a product of the number of items in the group that matches the "txtToFind", divided by the total number of items from the ms-gb-row (first group) times 100 to get the percentage.
Add a CEWP below the list view you want this to apply to, and add this code (Modify the text values in line 18 to match your values in the second group):

<script type="text/javascript" src="https://ajax.googleapis.com/ajax/libs/jquery/1.7.1/jquery.min.js"></script>
<script type="text/javascript">
/* Function for adding a "Success Ratio" to the ms-gb-row (first group in grouped list view).
 * ---------------------------------------------
 * Created by Alexander Bautz
 * alexander.bautz@gmail.com
 * https://spjsblog.com
 * LastMod: 27.01.2012
 * ---------------------------------------------
 This function takes two arguments:
   leadText - The text added before the percentage value
   txtToFind - The text to search for and to get the number of items from
 
  The value is a product of the number of items in the group that matches the "txtToFind" divided 
  by the total number of items from the ms-gb-row (first group) times 100 to get the percentage.
*/

successRatio('Success Ratio = ','Sold');

function successRatio(leadText,txtToFind){	
	$(".ms-gb").each(function(){
		var gbID, textRaw, gbText, gbVal, htmlRaw, part1, part2;
		gbID = $(this).parents('tbody:first')[0].id;
		textRaw = $(this).text();
		gbText = textRaw.substring(textRaw.indexOf(':')+2,textRaw.indexOf('(')-1);
		gbVal = textRaw.match(/d+/);
		getSubGroupes(leadText,gbVal,gbID,txtToFind,this);
		htmlRaw = $(this).html();
		part1 = htmlRaw.substring(0,htmlRaw.lastIndexOf('(')+1);
		part2 = htmlRaw.substring(htmlRaw.lastIndexOf('(')+1);
		$(this).html(part1 + "total=" + part2)	
	});
}

function getSubGroupes(lt,tot,gID,ttf,obj){
	$("tbody[id^='"+gID+"']:has('td.ms-gb2')").each(function(){
		var gb2ID, gb2TextRaw, gb2Text, gb2Val
		gb2ID = this.id;
		gb2TextRaw = $(this).text();
		gb2Text = gb2TextRaw.substring(gb2TextRaw.indexOf(':')+2,gb2TextRaw.indexOf('(')-2);
		gb2Val= gb2TextRaw.match(/d+/);
		if(gb2Text==ttf){
			val = Math.round((gb2Val/tot*100)*10)/10;
			$(obj).append("<span style='padding-left:25px;color:red;font-weight:bold'> " + lt + val + "%</span>");
		}
	});
}
</script>

Ask if anything is unclear.
Regards
Alexander