12.03.2011: I have posted a new release, you find it here.
---
In this example i will show how to use the jQuery UI widget "Accordion" in a SharePoint form.
NewForm: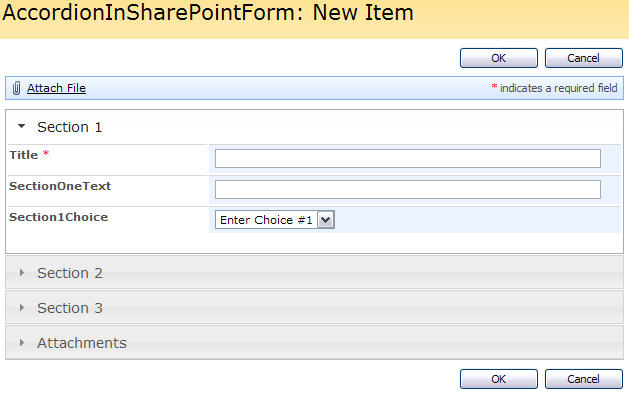 On form validation (refresh) it selects the first section containing empty fields: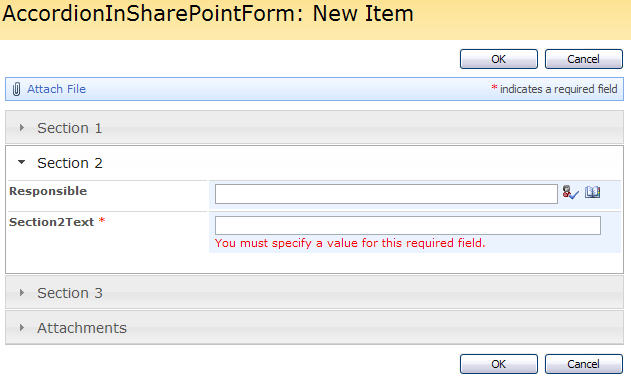 DispForm with attachment: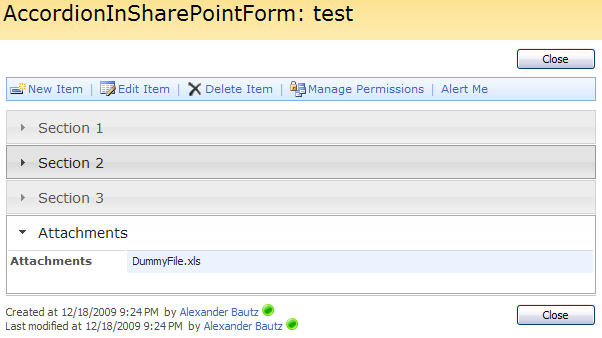 As always we start like this:
Create a document library to hold your scripts (or a folder on the root created in SharePoint Designer). In this example i have made a document library with a relative URL of "/test/English/Javascript" (a sub site named "test" with a sub site named "English" with a document library named "Javascript"):


A folder named "jQueryUI" containing the scripts and the "images"-folder for the selected theme:


The jQuery-library is found here. The pictures and the sourcecode refers to jquery-1.3.2.min. If you download another version, be sure to update the script reference in the sourcecode.
The jQuery UI-library is found here. Find the theme of your choice – mine is "smootness" – and download the files (select the widgets and effects you want – the file is dynamically built according to your selection).
Add a CEWP below your NewForm, DispForm and EditForm.
Add this code:

<DIV id="accordion" style="font-size:14px">	
	<H3><A href="#accordion-0">Section 1</A></H3>
	<div><table width="100%" id="accTable-0"></table> </div>
	<H3><A href="#accordion-1">Section 2</A></H3>
	<div><table width="100%" id="accTable-1"></table> </div>
	<H3><A href="#accordion-2">Section 3</A></H3>
	<div><table width="100%" id="accTable-2"></table> </div>
	<H3><A href="#accordion-3">Attachments</A></H3>
	<div><table width="100%" id="accTable-3"></table> </div>	
</DIV>

<link type="text/css" href="/test/English/Javascript/jQueryUI/jquery-ui-1.7.2.custom.css" rel="stylesheet" />
<script type="text/javascript" src="/test/English/Javascript/jquery-1.3.2.min.js"></script>
<script type="text/javascript" src="/test/English/Javascript/jQueryUI/jquery-ui-1.7.2.custom.min.js"></script>
<script type="text/javascript">

// Array of all fields - format: accID|FieldInternalName
// Note that accID is zero-indexed
arrOfFields = ['0|Title','0|SectionOneText','0|Section1Choice',
		  '1|Responsible','1|Section2Text',
		  '2|Section3Multiline','2|Section3Choice'];

// Initiate all the fields
fields = init_fields();

// Add the "accordion" to the formtable	
$("#accordion").insertAfter('.ms-formtable').accordion({autoHeight: false,animated: false});
// Loop trough all fields and move them to the right accordion section
fValAccID = '';
$.each(arrOfFields,function(idx,item){
	var split = item.split('|');
	var accID = split[0];
	var fieldName = split[1];
	if(fields[fieldName]!=undefined){
		currField = $(fields[fieldName]);
		currField.appendTo('#accTable-'+accID);
		
		// Formvalidation - find the first tab with empty required fields
		if(fValAccID == '' && currField.find('.ms-formbody span.ms-formvalidation').length>0){
			fValAccID = accID;
		}
	}
});

// Move the Attachment's to the last section
$("#idAttachmentsRow").appendTo('#accTable-3');

// Are there any required fields not filled? - select the section containing the first field
if(fValAccID !=''){
	// Show the right section
	setTimeout(function(){$('#accordion').accordion('activate',parseInt(fValAccID));},10);
}

// Fix IE8 issue with content not showing (because it is in a table within the DIV) + remove the default padding
$(".ui-accordion-content").css({'zoom':1,'padding':'0px'});

// function - to make "object" of all tr's in the form
function init_fields(){
  var res = {};
  $("td.ms-formbody").each(function(){
	  if($(this).html().indexOf('FieldInternalName="')<0) return;
	  var start = $(this).html().indexOf('FieldInternalName="')+19;
	  var stopp = $(this).html().indexOf('FieldType="')-7;
	  var nm = $(this).html().substring(start,stopp);
	  res[nm] = this.parentNode;
  });
  return res;
}
</script>

The only parameters you need to edit in the script is the array of FieldInternalNames. The format of the variable "arrOfFields" is accID|FieldInternalName.
In the html above the script, adapt the number's of sections – and the section's display name. The accID corresponds with the index of the table to insert the content in (zero-indexed).
All fields must be added to a section – if not it looks ugly….
Note: As for the "Tabs in SharePoint form", by now i have tested and found that columns of type "Multiple lines of text (Rich text or Enhanced rich text) do not work. What happens is that the section shows some of the fields hidden parts.
I have not done any testing on how to prevent this issue, so feel free to notify me if you find a workaround.
Note: The animation is disabled because of a "flicker problem" in IE8 due to the page being rendered in "Quirks Mode".
Regards
Alexander