Updated 10.10.2009: To use this script with the script Headings in SharePoint Forms – jQuery you must set the parameter "stretch" for the heading script to false. You must also call the heading script before the "Narrowing list form to one column-script".
I have made a tiny update to the heading script to support setting the backgound color when using it with "Narrowing list form to one column-script".
---
I got a request for a solution to narrow down the list form to one column with the "formlabel" above the "formbody".
This is actually a very simple task.
As always we start like this:
Create a document library to hold your scripts (or a folder on the root created in SharePoint Designer). In this example i have made a document library with a relative URL of "/test/English/Javascript" (a sub site named "test" with a sub site named "English" with a document library named "Javascript"):



The jQuery-library is found here. The pictures and the sourcecode refers to jquery-1.3.2.min. If you download another version, be sure to update the script reference in the sourcecode.
Add a CEWP below your NewForm list-form (and EditForm if you like) like this: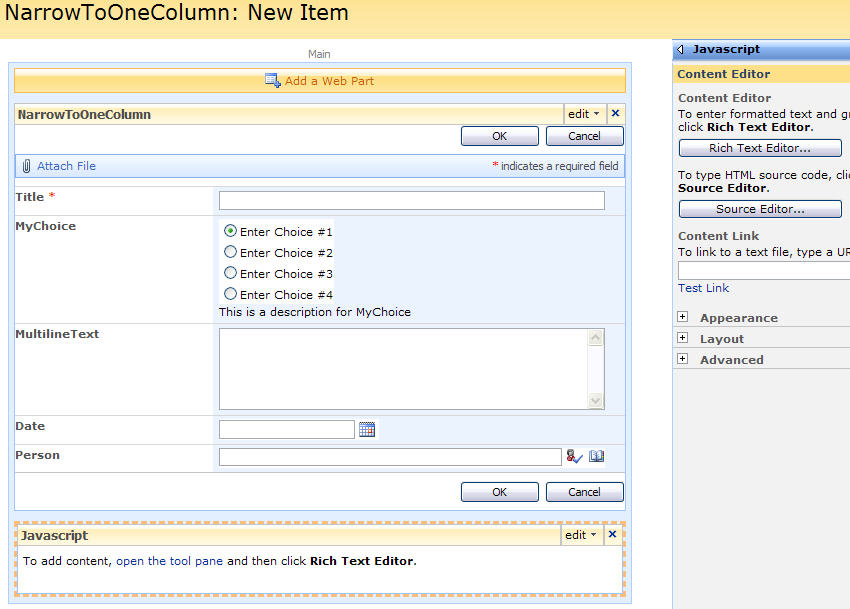 Add this code to the CEWP:

<script type="text/javascript" src="/test/English/Javascript/jquery-1.3.2.min.js"></script>
<script type="text/javascript">
$(document).ready (function() {	
	// This image sets the width of the form to min 590px - it must be removed
	$('#onetIDListForm img[width=590]').remove();	
});

$("td.ms-formlabel").each(function(){
	// Get the html of the formlabel
	var label = $(this).html();	
	// Insert the label over the formbody
	$(this).parents('tr:first').find('.ms-formbody').prepend(label);
	// Remove the original label
	$(this).remove();
	
});
</script>

Note: If you use this solution with other solutions that modifies the formbody – like the Wrap choice-field in multiple columns, you have to call this script last to have the "formlabel" added in the right position.
Your end result should look like this: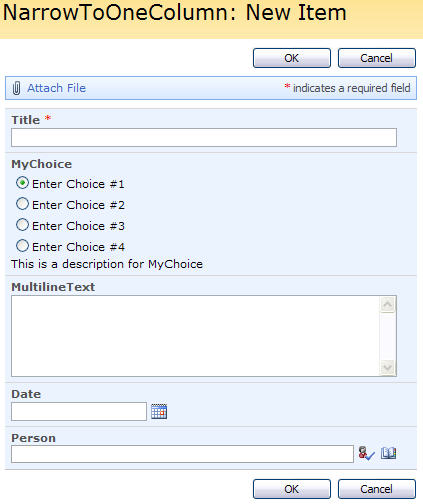 As always – ask if you do not understand how to use this script
Alexander