29.10.2009 Update: I have written a new article on how to add HTML-style tool tip – read it here.
---
I got a request for a method of adding a custom mouse-over tool tip on a field in a SharePoint form. Here is a quick example.
As always we start like this:
Create a document library to hold your scripts (or a folder on the root created in SharePoint Designer). In this example i have made a document library with a relative URL of "/test/English/Javascript" (a sub site named "test" with a sub site named "English" with a document library named "Javascript"):


The jQuery-library is found here. The pictures and the sourcecode refers to jquery-1.3.2.min. If you download another version, be sure to update the script reference in the sourcecode.
Add a CEWP below your list-form like this: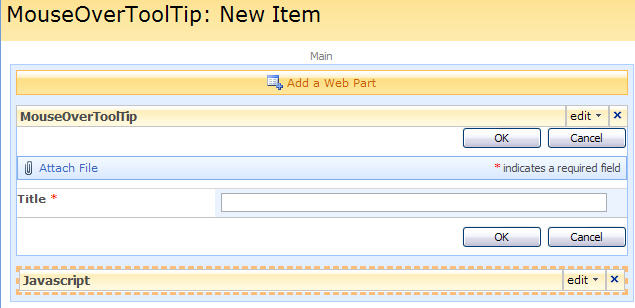 And add this code:

<script type="text/javascript" src="/test/English/Javascript/jquery-1.3.2.min.js"></script>
<script type="text/javascript">
fields = init_fields();

$(fields['Title']).find('input').attr('title','This is a new mouse-over tooltip');

function init_fields(){
  var res = {};
  $("td.ms-formbody").each(function(){
	  if($(this).html().indexOf('FieldInternalName="')<0) return;	
	  var start = $(this).html().indexOf('FieldInternalName="')+19;
	  var stopp = $(this).html().indexOf('FieldType="')-7; 
	  var nm = $(this).html().substring(start,stopp);
	  res[nm] = this.parentNode;
  });
  return res;
}
</script>

The tooltip should look like this:


Ask if this example is not enough.
Alexander