I got a request for a method to edit the form label of a SharePoint form. Basically this i very easy.
This is how it looks by default: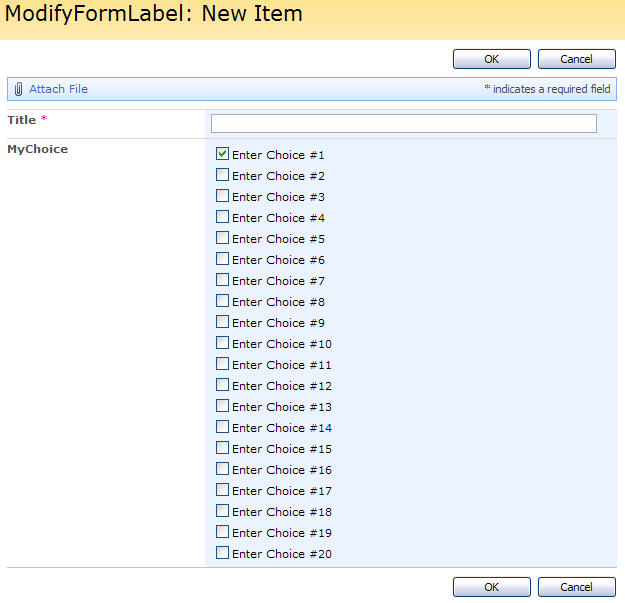 By adding a few lines of code it can look like this: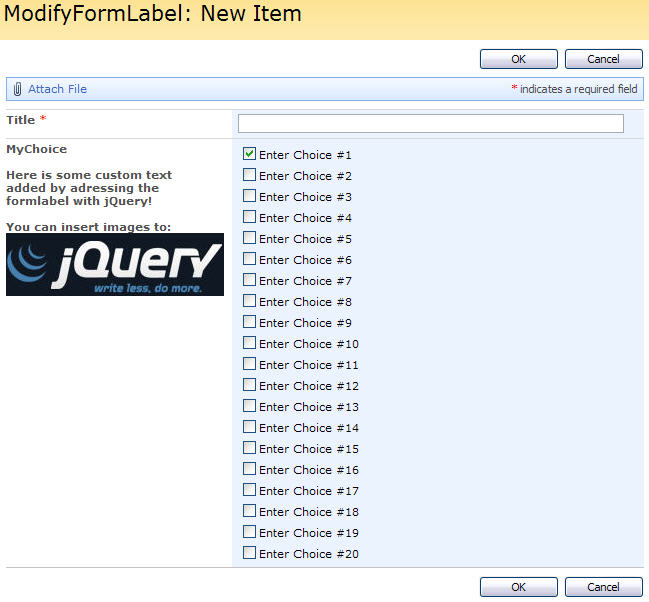 How is it done?
---
As always we start like this:
Create a document library to hold your scripts (or a folder on the root created in SharePoint Designer). In this example i have made a document library with a relative URL of "/test/English/Javascript" (a sub site named "test" with a sub site named "English" with a document library named "Javascript"):


The jQuery-library is found here. The pictures and the sourcecode refers to jquery-1.3.2.min. If you download another version, be sure to update the script reference in the sourcecode.
Add a CEWP below your NewForm list-form (and EditForm if you like) like this: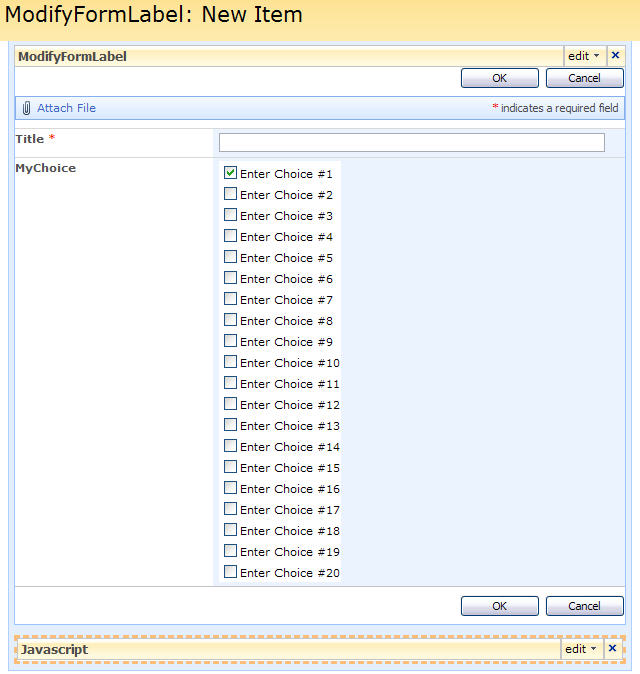 With this code:

<script type="text/javascript" src="/test/English/Javascript/jquery-1.3.2.min.js"></script>
<script type="text/javascript">
fields = init_fields();

var myNewLabel = "<br><div>Here is some custom text added by adressing the formlabel with jQuery!</div>" +
				 "<br><div>You can insert images to:<br><img src='/test/English/Shared%20Documents/jQuery_img.jpg' border='0'></div>"

$(fields['MyChoice']).find(".ms-formlabel h3").after(myNewLabel);

function init_fields(){
  var res = {};
  $("td.ms-formbody").each(function(){
	  if($(this).html().indexOf('FieldInternalName="')<0) return;	
	  var start = $(this).html().indexOf('FieldInternalName="')+19;
	  var stopp = $(this).html().indexOf('FieldType="')-7; 
	  var nm = $(this).html().substring(start,stopp);
	  res[nm] = this.parentNode;
  });
  return res;
}
</script>

The function init_fields() is a modified version of Erucy's function for finding fields in a SharePoint form. My modified version uses FieldInternalName rather than DisplayName to locate the fields.
Thats it!
Alexander
If you want to add individual labels for each of the choices in the choice list- read this post to learn how.