I have finally released v2.0 of my vLookup solution. There are a few new features, and it is better integrated into the DFFS backend.
You find the complete change log here.
Please note that this version does not have the "editor" built in to the frontend and you can no longer configure vLookup by adding ?vLookupSetup=1 to the URL. You must now configure vLookup from the DFFS_backend in the vLookup tab.
There has been some major changes to the code and you must test it in your setup before adding it to a production environment.
Folder support
One of the new features lets you have folders as children (in document libraries).
This way you can now add a folder from the vLookup "add child" link and have vLookup show all documents and subfolders added to this folder.
The metadata that makes the connection to the parent item is now on the folder and not the individual document.
Any documents uploaded to this folder will show in the parent item and there is no need to tag the individual documents with a connection to the parent item. It will show all documents and subfolders that are added to this parent folder.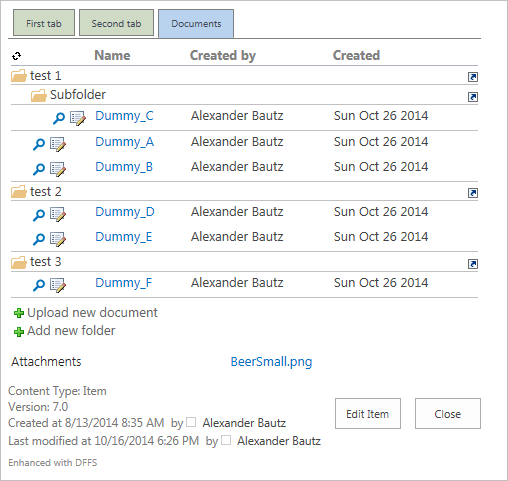 I have also finally crated a user manual that describes the setup process and all the configuration options.
Get the new version
You find the link to download the new version in the Products menu in the top of this page.
Questions, comments or bugs
Please post any questions, bugs or feature requests in the forum.
Alexander