I got this request from Tim:
Tim Says:
Is there a way to hide the appended comments to a multipe line field with version control. Actually can it a a click hide/show, and can it display the last comment by default? click it the see all pervious comments.
Larry got a bit on the way, but the appended comments are a bit different in a plain text field and in a rich text field. This approach splits up the comments and wraps them in new div's to handle the visibility.
The end result looks like this:
DispForm: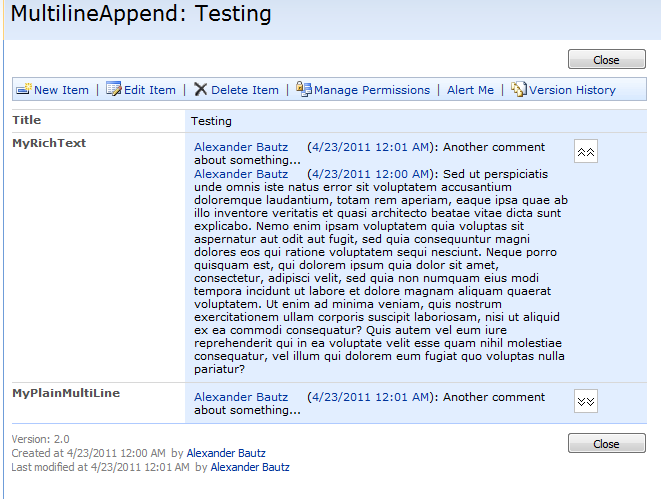 EditForm: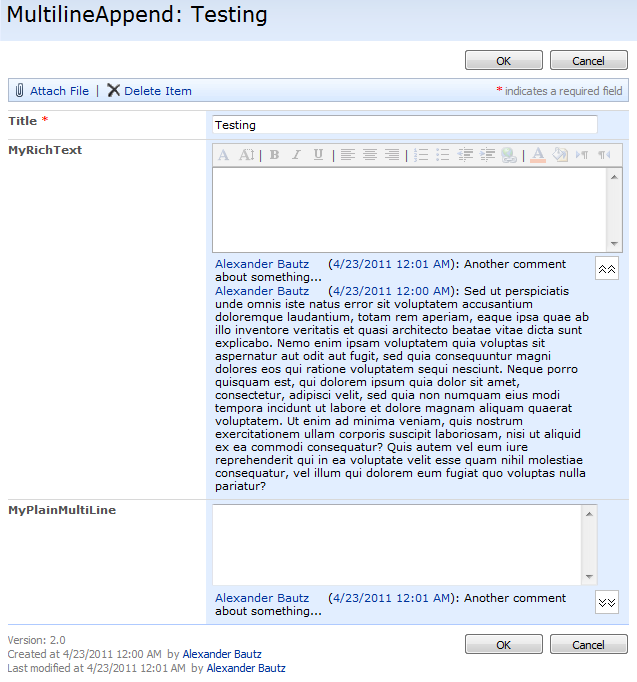 Put this code in a CEWP below the form in DispForm.aspx or EditForm.aspx

<script type="text/javascript" src="https://ajax.googleapis.com/ajax/libs/jquery/1.5.2/jquery.min.js"></script>
<script type="text/javascript">
fields = init_fields_v2();

toggleAppendOnMultiline('MyRichText');
toggleAppendOnMultiline('MyPlainMultiLine');

function toggleAppendOnMultiline(fin){
var currField = $(fields[fin]);
var rich = (currField.find('.ms-formbody div:last').parent().find('div').length>1)?true:false;
	if(rich){	
		var allArr = currField.find('.ms-formbody div:last').parent().find('div').remove();
	}else{
		var all = currField.find('.ms-formbody div:last').remove();
		var allArr = all.html().split(/<br>/i);
	}
	var buffer = ["<table style='width:410px'><tr><td valign='top' style='font-size:0.7em;width:99%'>"];
	$.each(allArr,function(i,part){
		var disp = "block"
		if(i>0){
			disp = "none";
		}
		buffer.push("<div class='"+fin+"_dummyHide' style='display:"+disp+"'>");
		if(rich){
			buffer.push($(part).html());
		}else{
			buffer.push(part)
		}
		buffer.push("</div>")
	});
	buffer.push("</td>");
	if(allArr.length>1){
		buffer.push("<td title='Toggle visibility' onclick='toggleShowAll(this,""+fin+"_dummyHide")' valign='top' style='cursor:pointer;'>");
		buffer.push("<div style='white-space:nowrap;border:1px silver solid;padding:2px;background-color:#ffffff'>");	
		buffer.push("<img style='vertical-align:middle' src='"+L_Menu_BaseUrl+"/_layouts/images/tpmax1.gif' border='0'>");
		buffer.push("<img style='vertical-align:middle' src='"+L_Menu_BaseUrl+"/_layouts/images/tpmax1.gif' border='0'>");
		buffer.push("</div>");
		buffer.push("</td>");
	}
	buffer.push("</tr></table>");	
	currField.find('.ms-formbody').append(buffer.join(''));
}

function toggleShowAll(elm,id){
var img = $(elm).find('img');
	if(img.attr('on')!=='1'){
		img.attr('src',L_Menu_BaseUrl+"/_layouts/images/tpmin1.gif");
		img.attr('on','1');
	}else{
		img.attr('src',L_Menu_BaseUrl+"/_layouts/images/tpmax1.gif");
		img.attr('on','0');
	}
	$("div."+id+":first").nextAll().toggle();
}

function init_fields_v2(){
	var res = {};
	$("td.ms-formbody").each(function(){
	var myMatch = $(this).html().match(/FieldName="(.+)"s+FieldInternalName="(.+)"s+FieldType="(.+)"s+/);	
		if(myMatch!=null){
			// Display name
			var disp = myMatch[1];
			// FieldInternalName
			var fin = myMatch[2];
			// FieldType
			var type = myMatch[3];
			if(type=='SPFieldNote'){
				if($(this).find('script').length>0){
					type=type+"_HTML";
				}
			}
			if(type=='SPFieldLookup'){
				if($(this).find('input').length>0){
					type=type+"_Input";
				}
			}
			// Build object
			res[fin] = this.parentNode;
			res[fin].FieldDispName = disp;
			res[fin].FieldType = type;
		}		
	});
	return res;
}
</script> 

Please note line 5 and 6 – i have addressed my two fields by FieldInternalName there. In the images, the comments in the field "MyRichText" has been toggled visible.
Alexander