Change log:
06.10.2010 Fixed a bug with unchecking hidden options when using a multi choice checkbox type column as "consumer" column (line 84 in the code). Thanks to Mike for finding the bug.
31.08.2010 Modified the code to hide the "consumer field" entirely if no items is visible.
16.07.2010 Updated the code to support checkboxes (allow multiple selections) in both "trigger" and "consumer" columns. I have also changed the logic from using the index of the option to use the actual text value.
15.03.2010 small update to the code to handle blank "triggervalue". Thanks to Larry.
---
I got this request from Elstone:
Hello

I have two choice fields, 1 drop down and another is multiple radio buttons (6 values/radio button). This I want to implement on newform/editform

In dropdown I have 3 values i.e. Yes/No/Not Sure (selected by default).

I want to show/hide some of the radio buttons out of 6 radio buttons depending on condiion.

Let say
if user select "Yes", then show radiobutton1 and radiobutton 3
If user select "No" , then show radiobutton2 and radiobutton 5
If user select "Not Sure" then show all the radio buttons

How can I do this?
---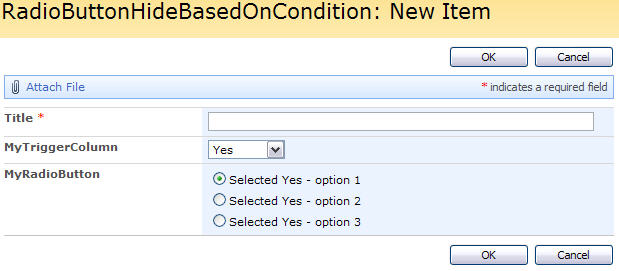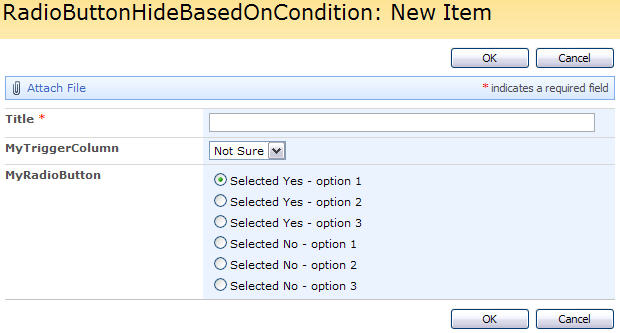 This script will work for single value <select>, Radio Buttons and Checkboxes. The script will uncheck all hidden options, so if you flip the selection from "Yes" to "No" any selections made under "Yes" will be cleared.
As always we start like this:
Create a document library to hold your scripts (or a folder on the root created in SharePoint Designer). In this example i have made a document library with a relative URL of "/test/English/Javascript" (a sub site named "test" with a sub site named "English" with a document library named "Javascript"):



Note: picture refers to jquery-1.3.2.min.js, but code uses jquery-1.4.2.min.js.
The jQuery-library is found here. The sourcecode refers to jquery-1.4.2.min. If you download another version, be sure to update the script reference in the sourcecode.
Add this code to a CEWP below the list form in NewForm and EditForm:

<script type="text/javascript" src="../../Javascript/jquery-1.4.2.min.js"></script>
<script type="text/javascript">
// Make object of all TR
fields = init_fields_v2();

// Call function with FieldInternalName of triggerfield and targetfield
init_hideRadiobuttons('MyTriggerColumn','MyRadioButton');

function init_hideRadiobuttons(triggerColumnFIN,radioButtonFIN){
var type = 'single';
if($(fields[triggerColumnFIN]).find('input').length>0)type = 'multi';
	var thisVal = [];
	switch(type){
	case 'single':
		// Onload
		thisVal.push($(fields[triggerColumnFIN]).find('option:selected').text());
		hideRadiobuttons(radioButtonFIN,thisVal);
		// Onchange
		$(fields[triggerColumnFIN]).find('select').change(function(){
		thisVal = [];
			thisVal.push($(this).find('option:selected').text());
			hideRadiobuttons(radioButtonFIN,thisVal);
		});
	break;
	case 'multi':	
		// Onload
		$(fields[triggerColumnFIN]).find('input').each(function(){
			if($(this).attr('checked')){
				thisVal.push($(this).next().text());
			}
		});
		hideRadiobuttons(radioButtonFIN,thisVal);			

		// Onclick
		$(fields[triggerColumnFIN]).find('input').click(function(){
		thisVal = [];
			$(fields[triggerColumnFIN]).find('input').each(function(){
				if($(this).attr('checked')){
					thisVal.push($(this).next().text());
				}
			});
			hideRadiobuttons(radioButtonFIN,thisVal);			
		});
		break;
	}
}

function hideRadiobuttons(FieldInternalName,arrOfValues){
var showArr = [];
	$.each(arrOfValues,function(i,val){
		switch(val){
			case 'Yes':
				showArr.push('Selected Yes - option 1',
							 'Selected Yes - option 2',
							 'Selected Yes - option 3');
			break;
			case 'No':
				showArr.push('Selected No - option 1',
							 'Selected No - option 2',
							 'Selected No - option 3');
			break;
			case 'Not Sure':
				showArr.push('Selected Yes - option 1',
							 'Selected Yes - option 2',
							 'Selected Yes - option 3',
							 'Selected No - option 1',
							 'Selected No - option 2',
							 'Selected No - option 3');
			break
		}
	});
	if(showArr.length==0){
		// Hide row
		$(fields[FieldInternalName]).hide();
	}else{
		// Unhide row
		$(fields[FieldInternalName]).show();
		// Show options
		$(fields[FieldInternalName]).find('label').each(function(){
			var thisVal = $(this).text();
			if($.inArray(thisVal,showArr)>-1){
				$(this).parents('tr:first').show();
			}else{
				$(this).prev().attr('checked',false)
				$(this).parents('tr:first').hide();			
			}
		});
	}
}

/*
  LastMod: 07.05.2010
*/
function init_fields_v2(){
	var res = {};
	$("td.ms-formbody").each(function(){
	var myMatch = $(this).html().match(/FieldName="(.+)"s+FieldInternalName="(.+)"s+FieldType="(.+)"s+/);	
		if(myMatch!=null){
			// Display name
			var disp = myMatch[1];
			// FieldInternalName
			var fin = myMatch[2];
			// FieldType
			var type = myMatch[3];
			if(type=='SPFieldNote'){
				if($(this).find('script').length>0){
					type=type+"_HTML";
				}
			}
			if(type=='SPFieldLookup'){
				if($(this).find('input').length>0){
					type=type+"_Input";
				}
			}
			// Build object
			res[fin] = this.parentNode;
			res[fin].FieldDispName = disp;
			res[fin].FieldType = type;
		}		
	});
	return res;
}
</script>

You must update the "cases" in the function "hideRadiobuttons" to match your setup.
Read here how to add a CEWP to the NewForm, DispForm or EditForm, and how to find the FieldInternalName of your columns.
Regards
Alexander