By request from Charlie:
Hi:
Similar to the "Date Picker Clicker", do you know if I could click a link and the users login name would fill a People Picker (person or group)?… on a newform or editform?

Charlie Epes
Here is a solution for inserting current user's login name in a people picker by clicking on a link above the field.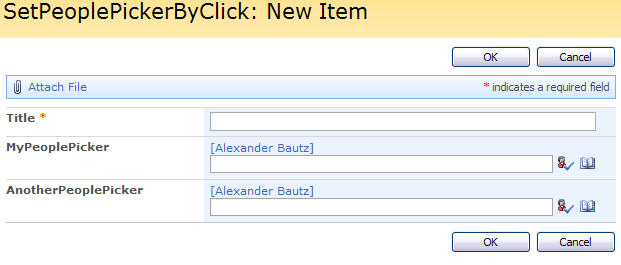 As always we start like this:
Create a document library to hold your scripts (or a folder on the root created in SharePoint Designer). In this example i have made a document library with a relative URL of "/test/English/Javascript" (a sub site named "test" with a sub site named "English" with a document library named "Javascript"):


The jQuery-library is found here. The pictures and the sourcecode refers to jquery-1.3.2.min. If you download another version, be sure to update the script reference in the sourcecode.
The file "AccessUserProfileInWSS.js" is found here. Read the article as you have to set your "user list GUID" in the script.
The code for the file "SetPeoplePicker.js" is found below.
Add a CEWP below – it is essential that it is placed below – your list-form as described here, and add this code:

<script type="text/javascript" src="/test/English/Javascript/jquery-1.3.2.min.js"></script>
<script type="text/javascript" src="/test/English/Javascript/interaction.js"></script>
<script type="text/javascript" src="/test/English/Javascript/stringBuffer.js"></script>
<script type="text/javascript" src="/test/English/Javascript/AccessUserProfileInWSS.js"></script>
<script type="text/javascript" src="/test/English/Javascript/SetPeoplePicker.js"></script>
<script type="text/javascript">
// Array of fields to add this function to
  var arrOfFields = ['MyPeoplePicker','AnotherPeoplePicker'];
  initSetPeoplePicker(arrOfFields);
</script>

The code for the file "SetPeoplePicker.js" looks like this:

/* Set people picker to current user login by click on a link above the field
 * ---------------------------------------------
 * Created by Alexander Bautz
 * alexander.bautz@gmail.com
 * https://spjsblog.com
 * v1.0
 * LastMod: 04.12.2009
 * ---------------------------------------------
 * Include reference to jquery - http://jquery.com
 *  interaction.js - http://spjslib.codeplex.com/
 *  stringBuffer.js - http://spjslib.codeplex.com/
 *  AccessUserProfileInWSS.js - https://spjsblog.com/2009/09/20/accessing-user-profile-information-in-wss-3-0-with-javascript/
 * ---------------------------------------------
 * Call from a CEWP below the list form in NewForm or EditForm like this:
	<script type="text/javascript" src="/test/English/Javascript/jquery-1.3.2.min.js"></script>
	<script type="text/javascript" src="/test/English/Javascript/interaction.js"></script>
	<script type="text/javascript" src="/test/English/Javascript/stringBuffer.js"></script>
	<script type="text/javascript" src="/test/English/Javascript/AccessUserProfileInWSS.js"></script>
	<script type="text/javascript" src="/test/English/Javascript/SetPeoplePicker.js"></script>
	<script type="text/javascript">
	// Array of fields to add this function to
	  var arrOfFields = ['MyPeoplePicker','AnotherPeoplePicker'];
	  initSetPeoplePicker(arrOfFields);
	</script>
*/

// Build the user information object
var ui = getUserInfo();

function initSetPeoplePicker(arr){
if(typeof(fields)=='undefined')fields = init_fields();
	$.each(arr,function(idx,item){
		// Check if FieldInternalName is correct
		if(fields[item]==undefined)return;
		// Add clickable link over field - ui.Title=DisplayName of current user
		$(fields[item]).find('.ms-formbody').prepend("<div><a title="Set field's value to " + ui.Title + "" href="javascript:setPeoplePicker('" + item + "')">[" + ui.Title + "]</a></div>");	
	});
}

function setPeoplePicker(FieldInternalName){
var field = $(fields[FieldInternalName])
	if(field.find('.ms-inputuserfield:visible').length>0){	
		// IE
		field.find('.ms-inputuserfield').html(ui.Name);
		field.find('img:first').click();	
	}else{
		// FF
		field.find("textarea:first").val(ui.Name);
	}
}

function init_fields(){
var res = {};
$("td.ms-formbody").each(function(){
if($(this).html().indexOf('FieldInternalName="')<0) return; 
var start = $(this).html().indexOf('FieldInternalName="')+19;
var stopp = $(this).html().indexOf('FieldType="')-7; 
var nm = $(this).html().substring(start,stopp);
res[nm] = this.parentNode;
});
return res;
}

Save this code as "SetPeoplePicker.js", and upload to the script library as shown above.
Ask if something is unclear.
Regards
Alexander