This is a short one on counting groups in a grouped list view like this (group count in the list view toolbar):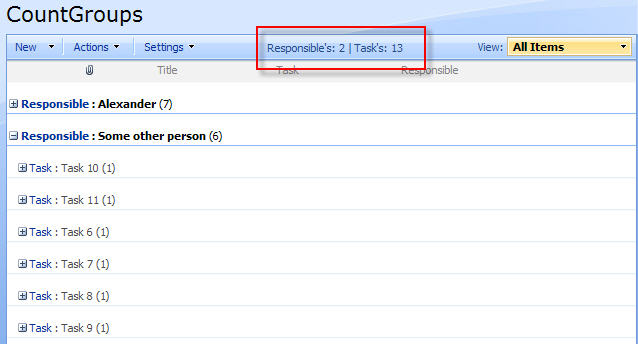 Note: This counts only visible groups. If you set the "Number of groups to display per page" in the list view settings you will get max that number of groups when counting. An alternate approach would be to query the list for the total number of unique items based on the items the view is grouped by.
Add a CEWP below the list view with this code (alter the location of jQuery as needed):

<script type="text/javascript" src="/test/English/Javascript/jquery-1.3.2.min.js"></script>
<script type="text/javascript">

// Grouping on level 1
var CountGrouping1 = $(".ms-listviewtable td.ms-gb").length;
var NameGrouping1 = $(".ms-listviewtable td.ms-gb:first a:eq(1)").text();

// Grouping on level 2
var CountGrouping2 = $(".ms-listviewtable td.ms-gb2").length;
var NameGrouping2 = $(".ms-listviewtable td.ms-gb2:first a:eq(1)").text();

var str = NameGrouping1 + "'s: " + CountGrouping1 + " | " + NameGrouping2 + "'s: " + CountGrouping2;

$("td.ms-toolbar[width='99%']").append("<div class='ms-listheaderlabel' style='text-align:center;margin-top:-15px'>" + str + "</div>");

</script>

The jQuery-library is found here. The sourcecode refers to jquery-1.3.2.min. If you download another version, be sure to update the script reference in the sourcecode.
Ask if something is unclear.
Regards
Alexander