16.11.2009 Fixed an error found by Marc Verner, resulting in values returning "undefined". This error var introduced by my previous update because i didn't test it thoroughly…
I have added some code to show how to use this code with multiple fields. This code is commented out, but is found in lines 6, 10 and 54-63. Uncomment these lines and you are good to go with another field with FieldInternalName "MultilinePlain2". I have also added an attribute "labelPosition", value "above" or "before" to determine label position.
14.11.2009 Small update on alignment of the input field – thanks to Larry. There are now two options on alignment. the default is to have the label above the input-field. Comment out line 17 and activate line 19 to have the label before the input-field (note that a long label will fall behind the input-field).
I got a request that i thought was worth doing a post on. Its from Marc Verner and sounded like this:
Hey Alexander,
I currently have a MS Word based form that contains a 2 column by 10 row table where users provide up to 10 keycodes and their corresponding descriptions. I am hesitant to make 20 sharepoint variables to capture this since it will make a mess of the form – and I don't need to query or report on these fields. Instead I'm looking for a possible solution for pre-populating a rich text field with a table template including column names. This way when a user creates a new item, they will see the familiar table and simply fill it in as per usual.
Not sure if its possible but you have really amazed me so far so figured I'd ask =)
Many thanks,
Marc
I do not like SharePoint's rich text fields as the clutter the HTML-code to the non recognizable when editing. This solution is therefore based on generating some custom input fields and storing the result in a multi line text field of type "plain text".
As always we start like this:
Create a document library to hold your scripts (or a folder on the root created in SharePoint Designer). In this example i have made a document library with a relative URL of "/test/English/Javascript" (a sub site named "test" with a sub site named "English" with a document library named "Javascript"):


You start with a standard multiline text field like this: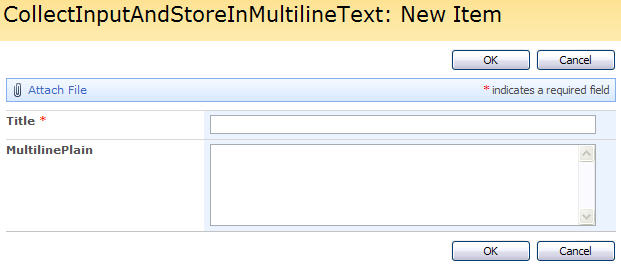 Add the script, and you end up with this: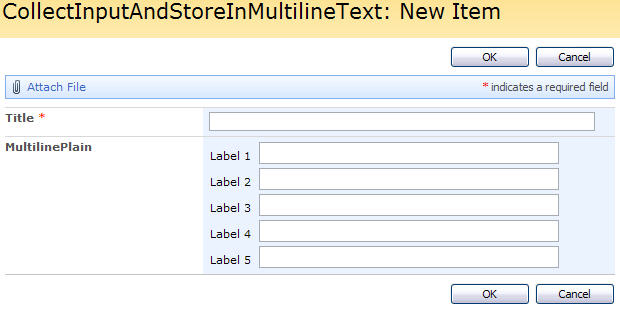 Add a CEWP below your NewForm list-form (and EditForm if you like) like this: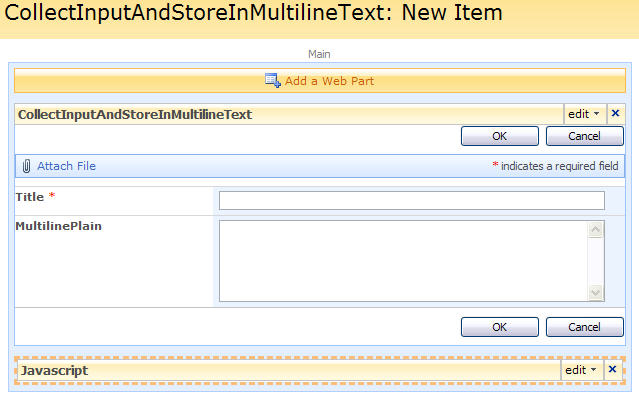 And add this code:
You must replace any occurrence of "MultilinePlain" with your FieldInternalName

<script type="text/javascript" src="/test/English/Javascript/jquery-1.3.2.min.js"></script>
<script type="text/javascript">
fields = init_fields();
// Array to create the input fileds from
var arr = ['Label 1','Long Label 2','Even longer Label 3','Label 4','Label 5'];
//var arr2 = ['Label 6','Long Label 7','Even longer Label 8','Label 9','Label 10'];

// Call the script with the array, and the FieldInternalName of the multiline text field
generateInputAndStoreInMultilineText(arr,'MultilinePlain','above',300);
//generateInputAndStoreInMultilineText(arr2,'MultilinePlain2','before',300);

function generateInputAndStoreInMultilineText(arrOfLabels,FieldInternalName,labelPosition,widthOfInputField){
if(widthOfInputField==undefined)widthOfInputField=250;
// Hide the multiline text field
$(fields[FieldInternalName]).find(".ms-formbody :input:last").hide().next().hide();
	var customInputFields = '';
	// Loop trough all "Labels" and create the input field
	$.each(arrOfLabels,function(idx,item){
		// Label position
		if(labelPosition=='above'){
			customInputFields += "<div id='customInput_" + idx + "' value='" + item + "' style='padding:2px'>" + item + "<br><input type='Text' style='width:100%;margin:0 13 0 0;'></div>";
		}else if(labelPosition=='before'){
			customInputFields += "<div id='customInput_" + idx + "' value='" + item + "' style='padding:2px;'>" + item + "<div style='text-align:right;margin: -17px 13px 0 0;'><input type='Text' style='width:" + widthOfInputField + "px'></div></div>";
		}
	});
	// Insert the custom input fields
	$(fields[FieldInternalName]).find('.ms-formbody').prepend(customInputFields);
	// Handle page refresh due to form validation, and preserve the values in the custom inputs
	$(document).ready(function(){
	// Read the values from the hidden multiline textfield
		if($(fields[FieldInternalName]).find(".ms-formbody :input:last").val()!=''){
			// Split the values
			var raw = $(fields[FieldInternalName]).find(".ms-formbody :input:last").val();
			var split = raw.split('n');
			// Insert the values in the correct "custom input"
			$(fields[FieldInternalName]).find(".ms-formbody div[id^='customInput_']").each(function(idx){
			var splitAgain = split[idx].split(': ');
				$(this).val(splitAgain[0]);
				$(this).find('input').val(splitAgain[1]);
			});
		}
	});
}

function PreSaveAction(){
var valToSave = '';
// Build the content to write to the hidden multiline field
$(fields['MultilinePlain']).find(".ms-formbody div[id^='customInput_']").each(function(){
	valToSave += $(this).val() + ": " + $(this).find('input').val() + "n";
});
// Write to multiline field
$(fields['MultilinePlain']).find(".ms-formbody :input:last").val(valToSave);

/*
// Field nr 2
var valToSave = '';
// Build the content to write to the hidden multiline field
$(fields['MultilinePlain2']).find(".ms-formbody div[id^='customInput_']").each(function(){
	valToSave += $(this).val() + ": " + $(this).find('input').val() + "n";
});
// Write to multiline field
$(fields['MultilinePlain2']).find(".ms-formbody :input:last").val(valToSave);
*/
return true; // Must return true for item to be saved
}

function init_fields(){
  var res = {};
  $("td.ms-formbody").each(function(){
	  if($(this).html().indexOf('FieldInternalName="')<0) return;
	  var start = $(this).html().indexOf('FieldInternalName="')+19;
	  var stopp = $(this).html().indexOf('FieldType="')-7;
	  var nm = $(this).html().substring(start,stopp);
	  res[nm] = this.parentNode;
  });
  return res;
}
</script>

The jQuery-library is found here. The pictures and the sourcecode refers to jquery-1.3.2.min. If you download another version, be sure to update the script reference in the sourcecode.
The script handles page refresh due to form validation, and preserves the values in the custom input fields (it reads them back from the hidden text field). The code can be used for both NewForm and for EditForm due to the same logic.
The values are stored in a proper format to present in DispForm and in list view's like this:



Read here how to find the FieldInternalName of your field
Don't hesitate to ask if all is not clear
Regards
Alexander