What is this solution
You can add a comment box to any page or form in a site to let users comment.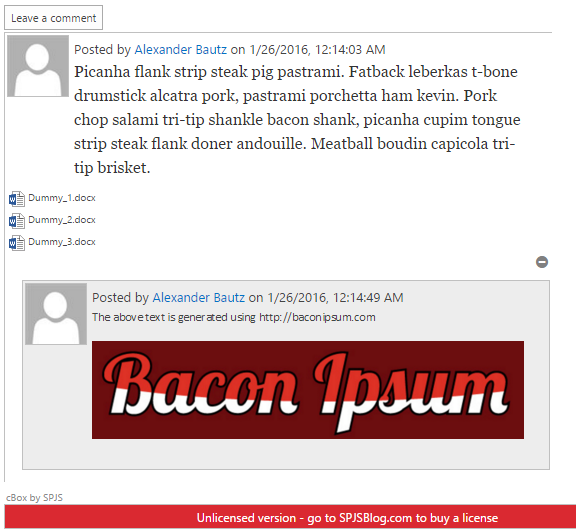 Current version of the solution
The current version of CommentBox for SharePoint for SP 2010 and 2013 is 2.6.3 (April 19, 2017). You find the complete change log for v2.x here.
For SP 2007 the latest version is v1.2. You find the change log here.
Instructions for the SP 2007 version can be found here.
Installation manual – with video guide
You find the installation manual here.
Do you need a trial version?
Contact med to have a 1, 2 or 3 month fully functional trial version.
Buy a license
EULA
Read the license agreement before proceeding.
For the SP 2010 and 2013 version you can buy a license code to get rid of the "Unlicensed version" text.
Do you prefer an invoice or have a purchase order?
Send me an email
with information on which product you want to buy, the company name and address, and the email address you want the invoice sent to. I will generate an invoice either from PayPal (quicker), or from my Norwegian bank if you prefer this.
Are you from Norway?
If so, you must request an invoice to have MVA specified.
Step 1
Make a payment using PayPal. The license price starts at $50 for a single site collection. See details on the various license types here. I trust you select the appropriate type.
CommentBox for SharePoint
| | |
| --- | --- |
| Site license : $50 | |
| Site collection license : $150 | |
| Company / Department license | Starts at $500 – Contact me to discuss the price |
| Corporate license | Contact me to discuss the price |
| OEM license | Contact me to discuss the price |
Step 2
Email me the transaction details and request a license code. Use this email address. As soon as I receive the email, I will send you the license code.
Step 3
Copy the license code from the email and into the CEWP code – below this text:
/* Add license code below this line */

Discussion
Use the forums for all discussions regarding CommentBox for SharePoint.